Storm Facial
SKINSTORM is the perfect solution for: Super cleansing a problematic, congested, acne-prone skin, Total skin resurfacing, Filler without the needle, Instant firming, Instant hydration hit, Vitamin shot, Peel and glow, Skin rejuvenation, Sun-damaged skin, Scarring, Dull skin, Pigmented skin, Skin renewal, Skin rejuvenation, Body resurfacing, peeling, Stretch mark treatment €110
Comcit Facial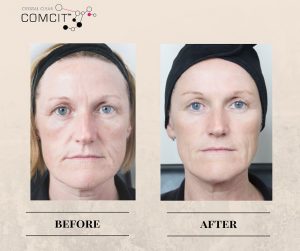 Comcit goes far beyond conventional treatments : it delivers cyro oxygen, skin infusion and oxygen simultaneously to the skin through tiny microneedles , significantly 5 min reducing lines and wrinkles and rejuvenating skin texture and firmness. The results are instant and incredible. €90
Eternal Beauty was voted Best Anti Ageing Facial in Ireland 2017 by RSVP Magazine for the COMCIT Facial
Medical Microdermabrasion
The latest and newest skin technology, complete skin resurfacing. Also for the treatment of lines, wrinkles, open pores, stretch marks and any kind of scar tissue. €60
Crystal Clear Oxygen Facial
Discover the ultimate in skin rejuvenation
Price: €65
Crystal Clear Oxygen Therapy is the perfect rejuvenation treatment for ageing skin. As we age oxygen levels in the skin cells decrease, resulting in a loss of elasticity and the formation of lines and wrinkles.
Oxygen Therapy replenishes lost oxygen and the active ingredients in the serum restructure the skin, visibly plumping out the lines and wrinkles. The results are immediate but a Crystal Clear Oxygen facial continues to work long after the treatment, stimulating cell regeneration.
Crystal Clear Oxygen Therapy is a sophisticated treatment that delivers pulsated oxygen and skin restructuring activities deep into the epidermis where skin health, elasticity and firmness begin.
OXYGEN TREATMENT WITH MICRODERMABRASION (Combination of rejuvenation and nourishing) €80
Applications
For all skin colours and all skin types
The ultimate luxury facial
Visible plumping of fine lines and wrinkles from the inside out
Perfect for the delicate under-eye area and the ageing skin on the neck
Helps repair & restructure sun damaged skin
Anti-bacterial properties, make it the perfect choice for acne-prone skin
Why Oxygen Therapy?
The ageing process is associated with a drop in available oxygen in the skin cells. The Crystal Clear Oxygen System utilises puncture jet technology that allows oxygen and specially selected anti-ageing skin care serum to be driven into the skin. Performed in a closed circuit environment, it provides the lower layers of the skin with much needed nutrients to repair and restructure from the inside out.
Benefits of Crystal Clear Oxygen Therapy
Helps rebuild the skin, smoothes lines and wrinkles and increases skin firmness
Perfect for damaged skin as the use of pure oxygen provides an energising and healing effect to the skin cells
Ideal for acne prone skin due to the anti-bacterial effects of oxygen, perfludecalin and apple extract, which help eliminate toxins
The most advanced method of replacing skin's lost moisture
Provides oxygen to all levels of the skin
Stimulates collagen production at a cellular level speeding up the mitosis of the skin cells and helping in the healing process
Reverses the damage caused by free radicals